Shopping Cart
Your Cart is Empty
There was an error with PayPal
Click here to try again
Thank you for your business!
You should be receiving an order confirmation from Paypal shortly.
Exit Shopping Cart
Employees & Bad Jobs:
The Emotional & Psychological Effects of Negative Work Environments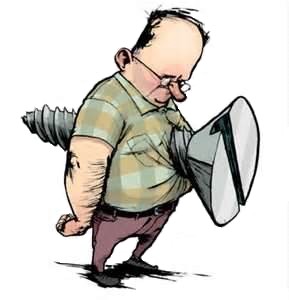 My apology to all those sensitive persons for the strong language used as title of this blog but I had no other alternative to express how many of us feel. Yes, six years after being transferred to this organisation I can still hear people in pain murmuring about their miseries.

He joined as trainee officer for which he signed a bond. Less than a year later MRA sends him a claim of Rs 260K. This is what any trainee faces should he not satisfy the terms of the bond. It looks quite simple as you got to complete the minimum number of years of employment. But unlike other types of bond that we are all used to, this one has got a catch; you need to successfully complete the exams. Should you fail, there is no chance for re-sit. This has been the fate to our trainee who is now in terrible situation not knowing what to do. He wants his job back or at least given another chance to sit for the exams but management is not for this option and stay firm on their position. But what about the legal enforceability of the bond? According to legal advice obtained by the trainee, the terms of the bond and the bond itself is not without flaws. MRA can be legally challenged should they decide to maintain their position. Read about the flaws in the bond in our premium section.
Update: When this article was written the trainee was still fighting on his case. He was contacted by one of our colleagues and we learned that MRA has exceptionally withdrawn their claim for the refund of the Rs 260K. What made MRA go for a U-turn on their decision? Did they come to know about the legal flaws or was it a generous act? Give me your comments.
This is not an article about what is performance appraisal nor is it about the benefits we derive from it. I just want to share my personal experience and invite you for your comments so that we can learn from each other. It is part of our knowledge sharing objective contributing towards our personal development.
The first time I came across the term 'performance evaluation and appraisal' was during my studies. These were all but theories and I could only have a glimpse of the practical aspects during my employment with McDonalds (UK). I was impressed the way it was being carried out at all levels. McDonalds being a world class business with a strong brand name and used as benchmark by many organisations, there were no room for complacensy and amateurism. Rewards were based on real achievements and contribution towards the core values of the organisation, its mission and vision. So when it was presented to us on its introduction over here, I was very excited. It was at head office L8 where the HRD management made the presentation. As appraisers, we were asked to be very objective and unbiased. As I believed in the aspirations of our new organisation I was very motivated and eager to make it a success and contribute in making our organisation a world class.
Down the lane, like a few of you, I feel that we have been betrayed. Am not talking about betrayal by our organisation. I strongly believe in their aspirations and fully committed to their strategy. I feel that the system has failed us. The KPI has produced many actors and show runners. We call them the smart people. They are like fox and know the easy way to success, promotions and rewards. Many of them have won it for life.  On the other hand, many hard working, trustworthy and honest people have been sidelined. Is it because of flaws in our appraisal system?
or is it because of other reasons? Someday, we may find out or may be not and then our generation will be tagged as having been inefficient and they will be applaused of getting rid of us. I believe that the 'smart' guys have won it over the 'hard working' guys, I believe that the packaging guys have won it over the production guys. beay be there will be some issues where you agree with me on the flaws in the system, or may be not. to employers or employees.  You must have covered this topic during  your studies or read about it. This is about my personal experience on my Department's performance appraisal system which I want to share with you.

In MSTD KPI targets are communicated to officers months after the start of a reporting period.
KPI targets keep changing over the year.
Targets are not clearly defined. What is "Quality audits"?
Interpretation of KPI targets is not consistent all througout the organisation.
Figures are not substantiated and not verified.
Section Heads have mathematically unachievable KPIs!
Weighting of KPIs is same as if there were no weighting at all.
Officers got life long benefits for a single year top performance while others got life long penalty for a single year bad performance.
There is no department wise harmonisation for the subjective part of the appraisal form.
Bad top down communication.
0

/